Back to blogs
8 Tips for working from home
24 February 2021 •
By: Anja Wellness
We started working remotely at the beginning of last year, as a temporary solution to help flatten the curve. Fast forward eleven months and we're still asking "Can everyone see my screen?" daily. While working from home has its benefits, it can also be challenging — especially for that all-important work-life balance. 
Whether you're working from home due to the coronavirus pandemic or because you've managed to find a remote position, you'll need to change some of your routines to make working from home a success.
To help you find the sweet spot in all spheres of your life, we've listed a few tips to get you started. 
1. Get ready for your workday
While it's comfortable to wear pyjama or sweatpants when working from home, it's still important to have a get-ready-for-work routine. Take a shower, brush your teeth and do your hair. You will feel instantly refreshed and ready for the day. (Plus, you won't be self-conscious if you're asked to switch your video on - eek!) 
Did you know that making your bed in the morning can help with information processing? Very Well Mind reports that there is a clear link between working in an organised, clutter-free environment and having improved focus, goal-setting skills, productivity, and lower levels of stress.
Takeaway: The simple act of making your bed can set the tone for a good day. 
2. Make your desk a happy space
Ideally, your desk should be in a separate room where you can shut the door to draw the line between work and home life. This however isn't always possible if you don't have a study or a home office, so finding a quiet space for meetings and negotiating space within a shared home can be tricky. If you don't have a home office, try to set up a dedicated space that is out of the rest of your household's way.
Take advantage of the fact that you're at home by adding unique things to your desk that make you smile. Whether it's a houseplant or photos of your family — make your desk a cheerful space. 
"My desk is in my dining room and it gets packed away every night. I find packing it up at night helps me to switch off for the day." - Leo, Product Designer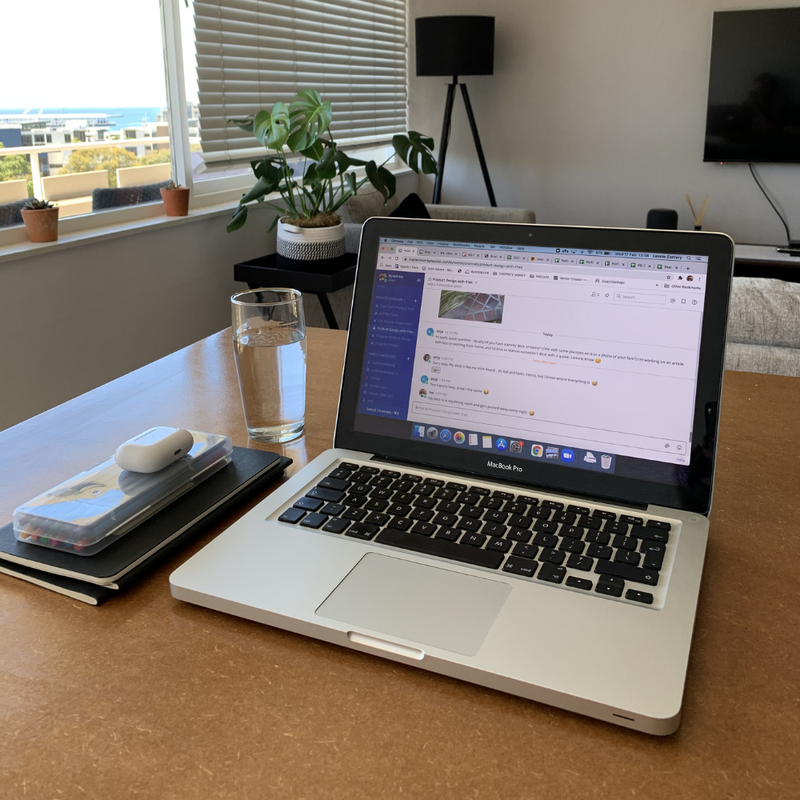 3. Take walking meetings when you can
The average worker sits about 9.5 hours a day - which is 2 hours more per day than they sleep. That's a lot of sitting! Sitting is bad for your health as it increases the risk of cardiovascular disease, diabetes, and weight gain. Check out this Health Line article for more information on the long-term effects of sitting too much. 
If you've got a lot of meetings lined up, alternate between sitting and walking. Put your headphones on and take a walk around the house — or even the neighbourhood. Your body will thank you! 
4. Meal prep
When the going gets tough, the tough eats… 2 Minute Noodles. We've all been there. Working from home is a great opportunity to eat healthier, but it can be difficult when you're under pressure. Meal prepping is the perfect way to ensure that you still get your veggies in, even on those busy days. Need some meal-prepping inspo? Have a look at this helpful guide The Everygirl put together. 
5. Maintain your work hours
It's so easy to lose track of time when you're working from home. One of your biggest challenges will be to stick to your work schedule. Always remember that your personal life is just as important as your professional one. At the end of each the day, close your computer and go outside to do some exercise, walk your dog or spend some time with the ones you love. 
"It's essential to establish boundaries to signal the start and end of a working day. We used to have things such as a work commute, packing a lunch box and grabbing our coat before leaving the house, which subconsciously activated our work mode. Because those things are no longer part of our lives, it's important to substitute them with other activities. To end the workday I like to switch off my Bluetooth mouse, keyboard and close my work laptop. That way I know work has finished and I can switch to my personal life." — Dean, Head of Product 
6. Do regular exercise
Speaking of exercise, don't forget to set aside some time for those much-needed endorphins. Daily physical activity will reduce stress and can help you sleep better. Experiment with different times in the day to find what suits you. You might find that a quick yoga session during lunch works well for you, or a run after work. 
Tip: YouTubers like Chloe Ting, Pamela Reif and Fitness Blender upload weekly workouts you can do at home. 
7. Set reminders to stand and drink water
Now that you're working from home, you might find that you're not moving around as much as you would at the office. You can download an app to remind you to stand or drink water. We love Randomly RemindMe (Android) and Stand Up! The Work Break Timer (iOS).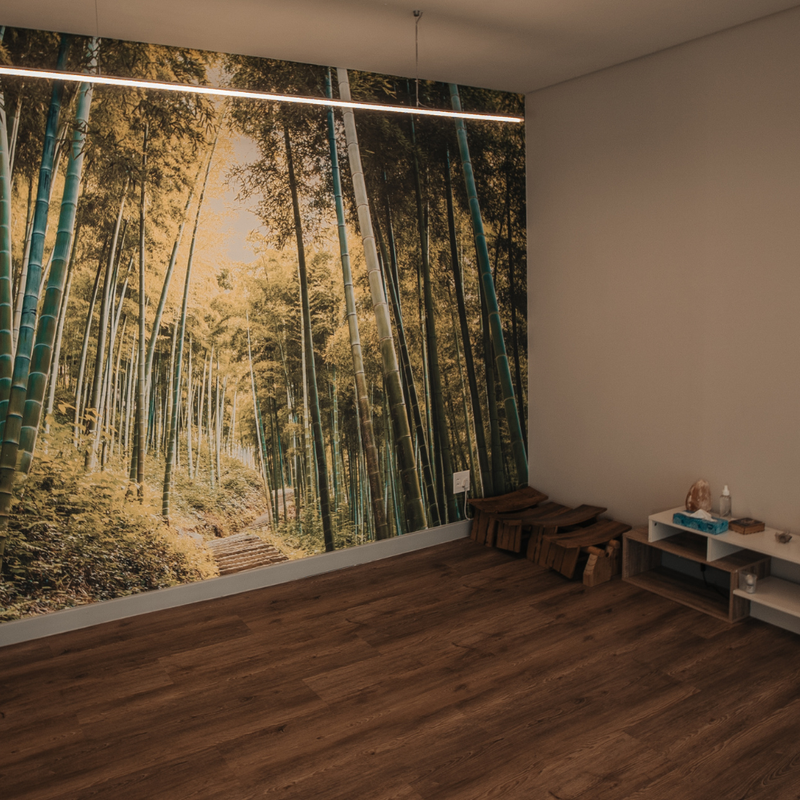 8. Meditate
Here at Byte Orbit we are big fans of meditation. We used to have our meditation sessions in our beautiful wellness room at our office, but now that we're all working from home we're meditating from home too — thanks to Zoom! 
If you're struggling with feelings of anxiety during the day, take a few minutes to meditate. You can use the Headspace or Calm app to help center you. 
These are some benefits of meditation: 
It helps you to examine your thoughts and feelings without judgement, which improves your self-esteem.
By practising meditation you can lower your cortisol levels to assist with stress management. 
Mindfulness meditation helps train your mind to focus on the present, which can reduce your anxiety. 
Our COO, Wendy Moulang, recently shared this beautiful poem in one of our meditation sessions. 
Over the Weather by Naomi Shihab Nye
We forget about the spaciousness 
above the clouds
but 
it's up there.
The sun is up there too.
When words we hear don't fit the day,
When we worry what we did or didn't do,
What if we close our eyes, 
Say any word we love
that makes us calm,
Slip it into the atmosphere
And rise?
Creamy miles of quiet.
Giant swoop of blue.
We hope this article will help you with your work-from-home journey. Be kind to yourself and remember that this is still unfamiliar territory for most of the world, so you're not alone! 
Share this
24 February 2021
By: Anja
Wellness