Culture
Our culture is one of our greatest assets. We're mindful of the impact our words and actions can have on those around us, and we strive to be kind, respectful, and supportive at all times. It's a small thing, but it makes a big difference, and we're proud to see it in action every day. If you're looking for a workplace that values diversity, fosters creativity, and treats everyone with respect, we'd love for you to join us!
Values
As much as we strive to reach great heights and push the envelope, we also strive to get there in a way that we can be proud of. Our values represent our active approach to ensuring that we treat ourselves and others with respect and kindness, and collectively grow as human beings.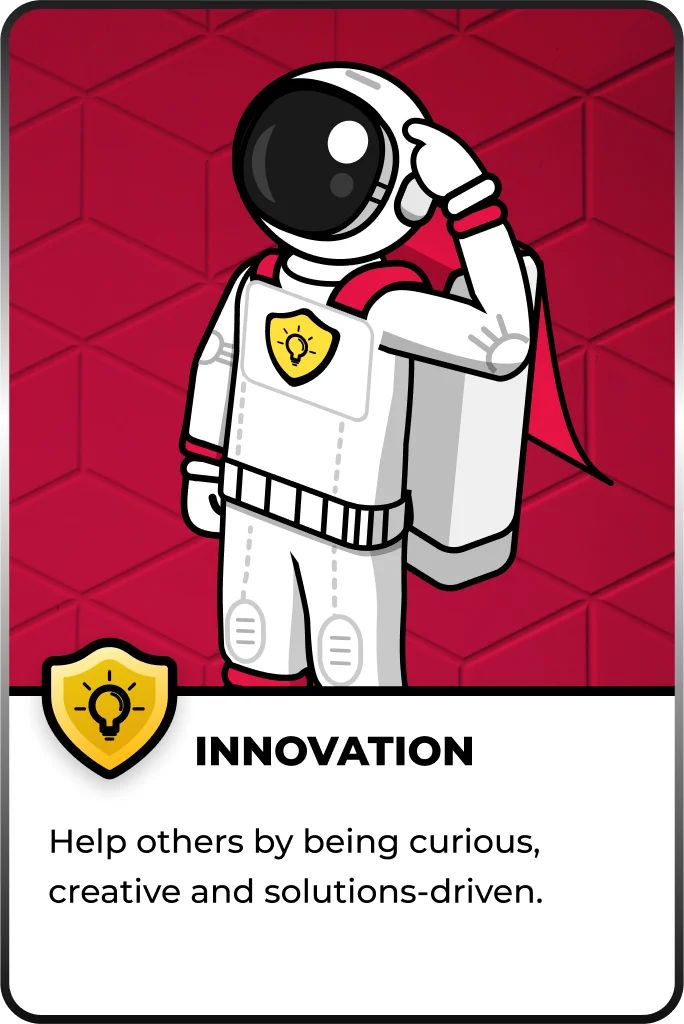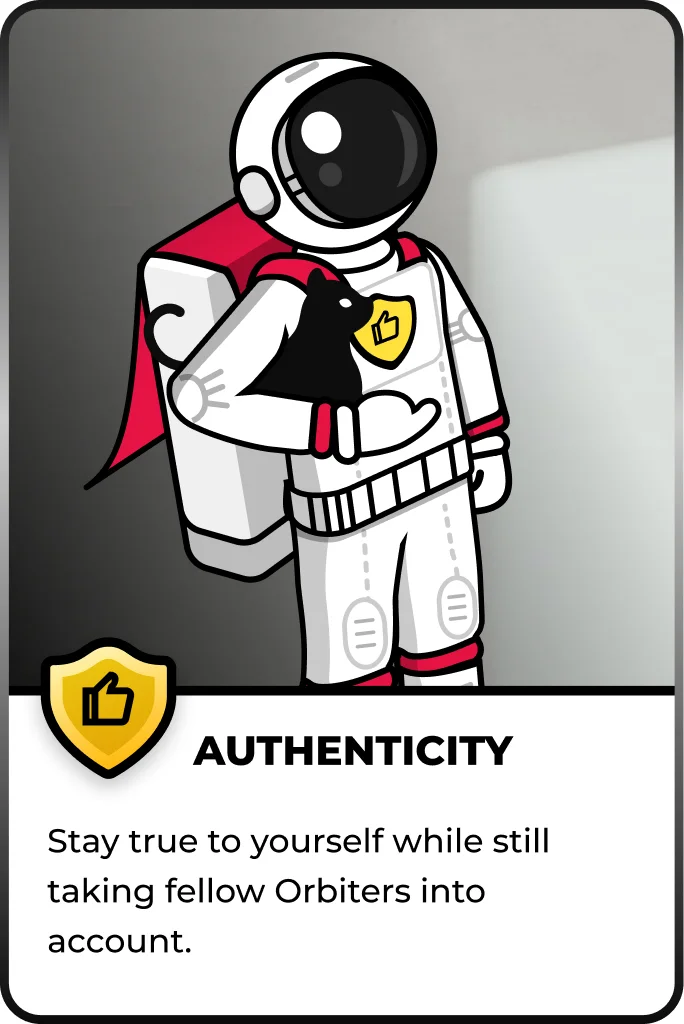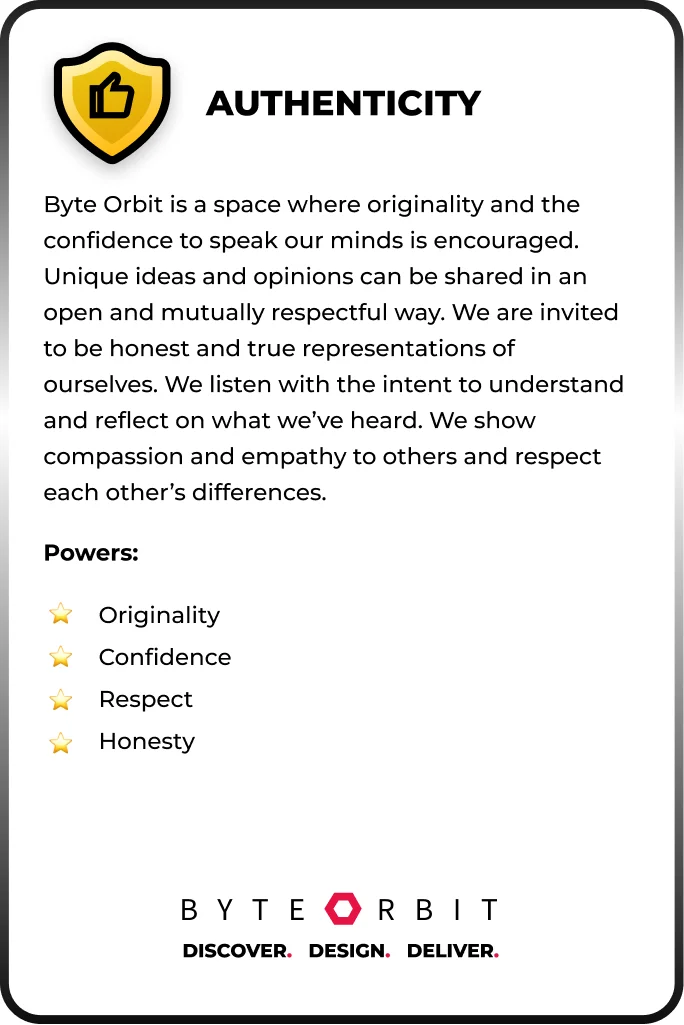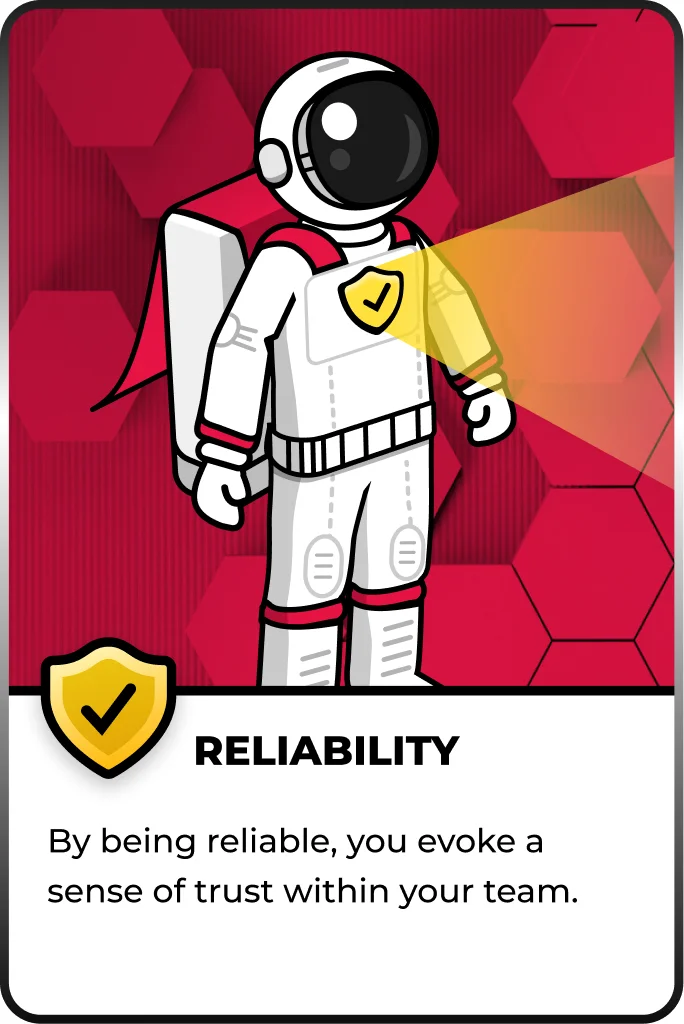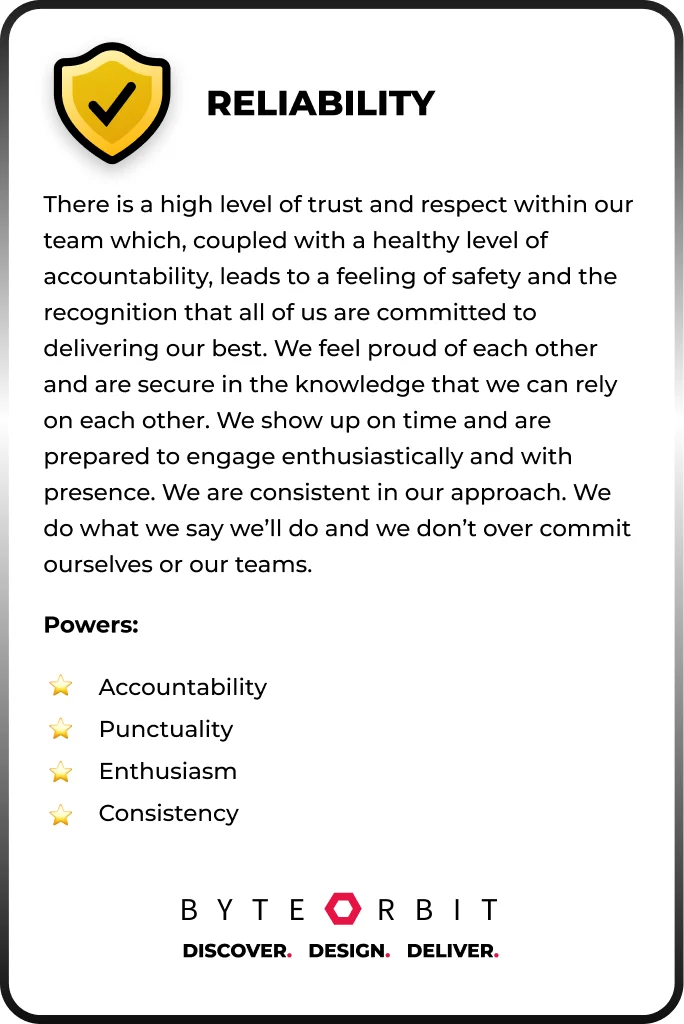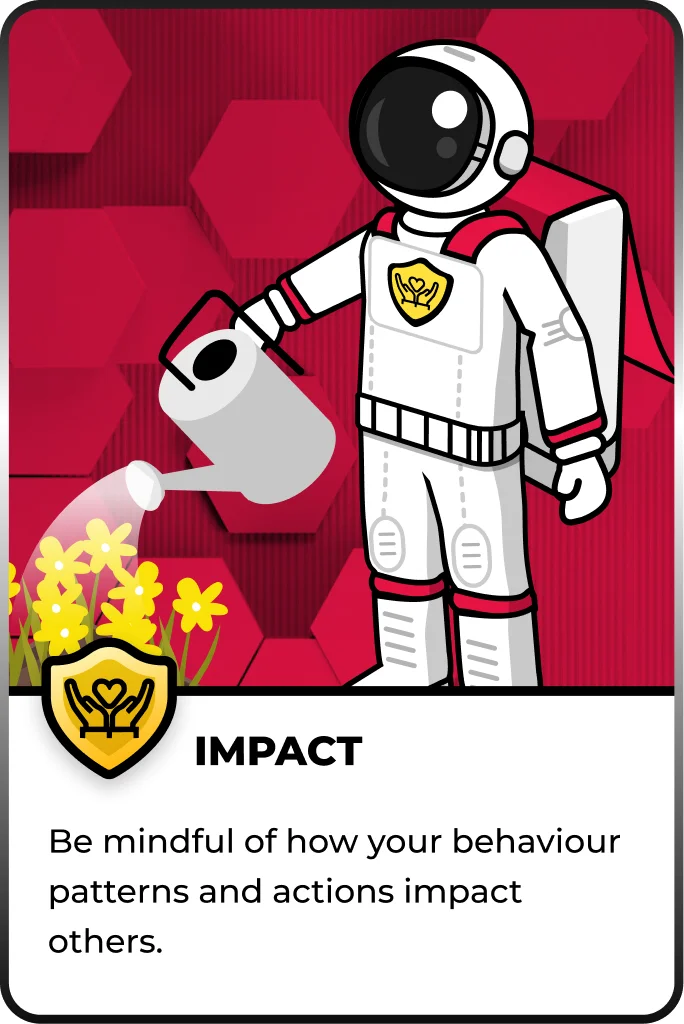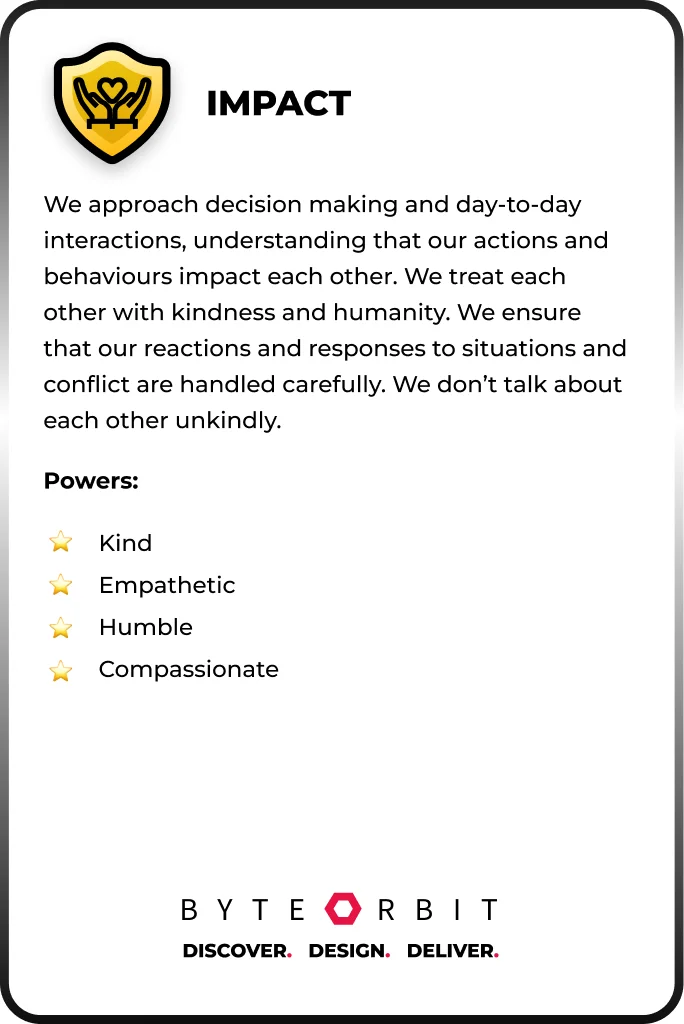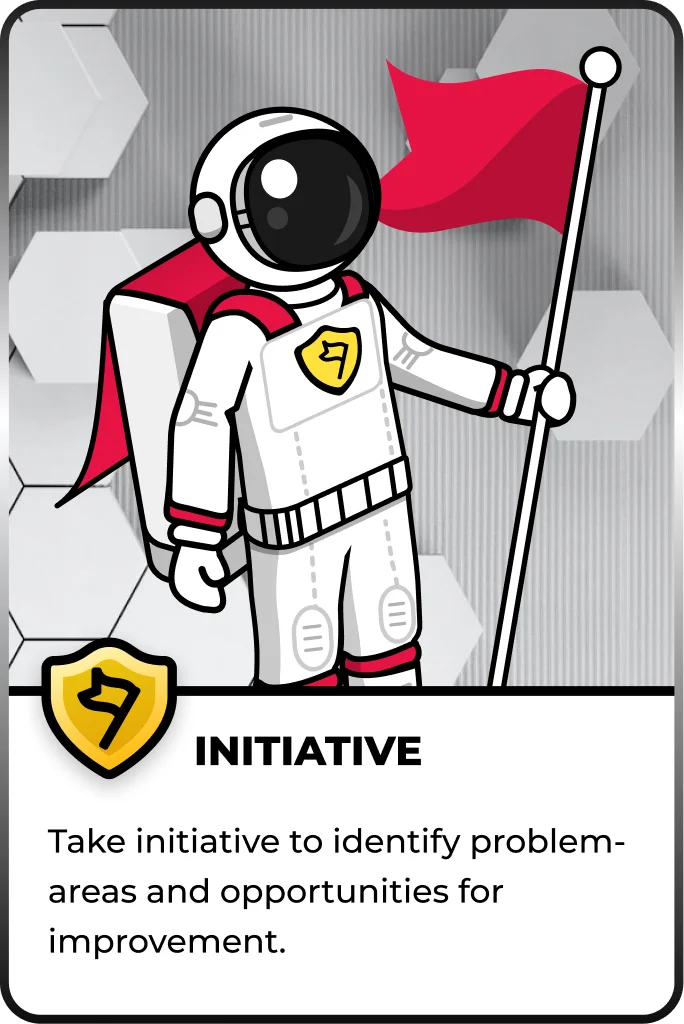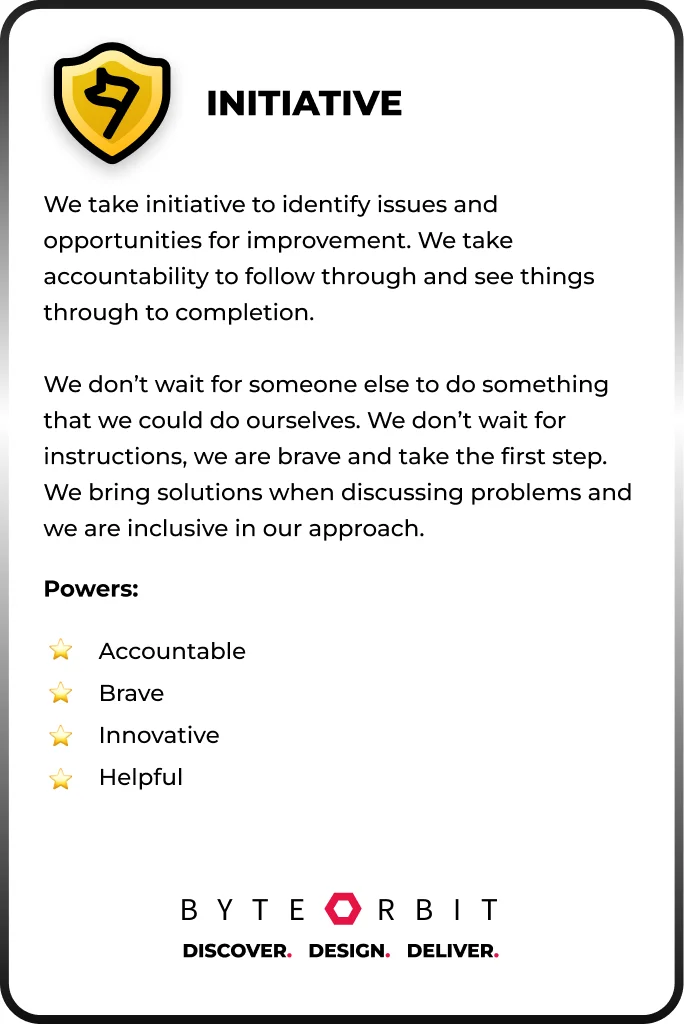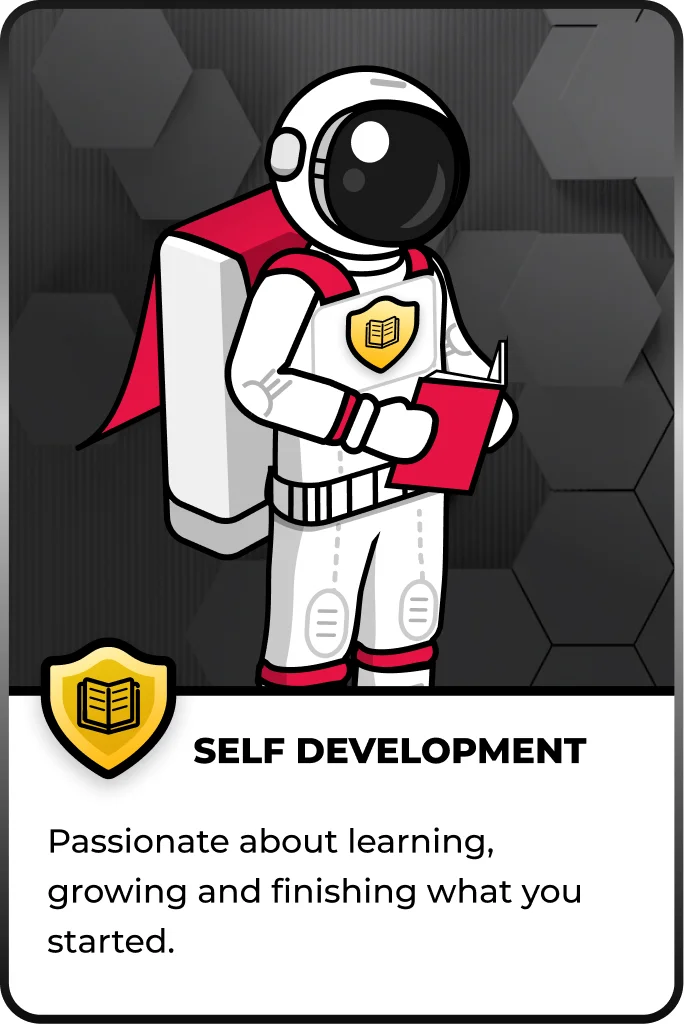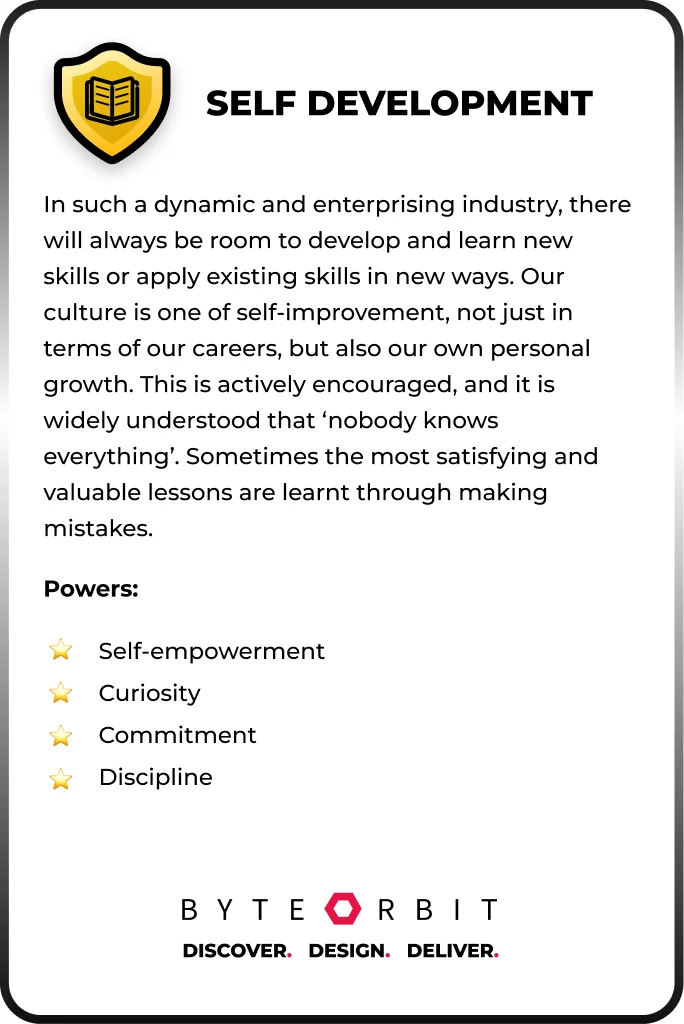 Benefits
Ready to join a company where you are valued and your unique self is celebrated? At Byte Orbit, we believe that when you succeed, we succeed. That's why we provide you with all the resources and support you need to thrive and build a fulfilling career. Whether you're looking to expand your skills, tackle new challenges, or just want to be part of an awesome team, we've got you covered.
Hybrid Working
Currently we offer completely optional office time. All our current employees are working remotely, with occasional visits to the office at their convenience. In the future, we may introduce a few mandatory office days, but for the rest remote is the way to go.
Access to online learning
We encourage continuous learning at Byte Orbit. We design a development roadmap for each individual in the company and work with our employees to support skills development in line with their areas of interest and career objectives.
Annual leave
Our annual leave entitlement is 21 days per cycle. Once you've been with the company for 5 years, this increases to 26 days. Those who have been with us for 10 years or more can enjoy unlimited leave. T&Cs apply.
Team building & socials
We host a variety of team building events and other social activities. Byte Orbit's year end functions are epic!
Sabbatical
After 3 years of unbroken service, you become eligible to apply for a sabbatical of up to 3 months.
Leadership coaching
Our management level employees enjoy ongoing coaching with an external professional coach.
Employee Assistance Program (EAP)
We have launched an EAP which provides our employees with unlimited access to legal assistance, nutritional and fitness advice, debt assistance and 24/7 trauma counselling.
Starter Pack
All new starters receive a new Mac laptop and other equipment necessary to perform your role. You will also receive a gift box full of Byte Orbit swag.
Trust
We trust our employees and we don't micro manage. We expect you to be responsible for your own commitments and we allow you the freedom to solve problems, make decisions and deliver your work based on your own skills.
Stocked bar
We have a great bar area, stocked with both alcoholic and non-alcoholic beverages for after work drinks. We always encourage socialising responsibly.
Group meditations
At Byte Orbit we are passionate about meditation and we offer 2 group meditation sessions per week over Zoom. Employees are also always encouraged to invite their families to attend if they wish.
Generous parental leave policies
We offer up to 4 months paid maternity leave for employees who have been with the company for longer than 2 years.
Weekly company standups
We run a varied schedule of sessions every Friday, which is either a general standup and company related feedback with the CEO and MD, or it is some sort of online presentation focused around one of these themes: Relaxation, Motivation, Demonstration or Innovation. Some of these sessions are mandatory, but others are recorded for you to watch in your own time.
Endless career opportunities
We don't place you in a box. Anywhere you want to grow in the organisation is fair game.
Flexible work hours
We offer flexibility in start and end times. We don't watch the clock and we expect our employees to take responsibility for time management.
Family responsibility leave
We believe in the importance of being available when your family needs you, therefore our standard family responsibility leave is 5 days.
Modern offices
Beautiful offices situated in Century City. Uninterrupted view of Table Mountain and the city bowl. Stylish meeting rooms, a comfortable pause area and a stocked bar.
Adventure club
A space for Orbiters to encourage one another to stay healthy and active through our monthly hikes and Strava club.
Birthdays
You can take a day off on your birthday. You are welcome to take it on any day of the week (in which it falls). Consider it our gift to you.
Byte Orbit Team Appreciation day
To show appreciation for everyone's hard work, we give an extra leave day to all our Orbiters to relax and recoup.
Tenure travel bonus
To show our appreciation for your loyalty and service, on your 10 year work anniversary, we will gift you a R50 000 travel bonus towards your dream holiday.