Back to blogs
5 Women in Tech Podcasts To Follow
11 August 2022 •
By: Michael Technology
In South Africa, August is Women's Month and is all about the liberation and empowerment of women. Our history has seen women face innumerable challenges, overcome adversity, and do nothing short of changing the nation's trajectory. In the tech space, it is no different. Women have taken the baton and are leading the way, and so we're spotlighting five women-in-tech podcasts that are paving the way forward for a better and more inclusive future.
Women in Tech Podcast, hosted by Espree Devora.
Espree believes in the power of community and human connection. She thrives on telling real stories that make a real impact. "When I ignited the Women in Tech podcast, I wanted to create a positive piece of content with the sole purpose of showing others what's possible." Her podcast journey started in 2014 when she interviewed fellow techies, or as she calls them, builders and risk takers. Listen and be inspired by female founders, engineers, investors, UX and UI designers, and journalists all sharing the message of 'if I can do it, so can you'.
Image source: Women in Tech Podcast
She Talks Tech
Flying under the banner of WeAreTechWomen, the She Talks Tech podcast brings you the latest insights on robotics, drones, fintech, neurodiversity, Coronavirus apps, and many more. They boast an impressive lineup of speakers from all walks of life sharing stories, lessons, and tips covering the tech industry from back to front. You are guaranteed to be informed, inspired, and motivated to stay resilient in your tech career.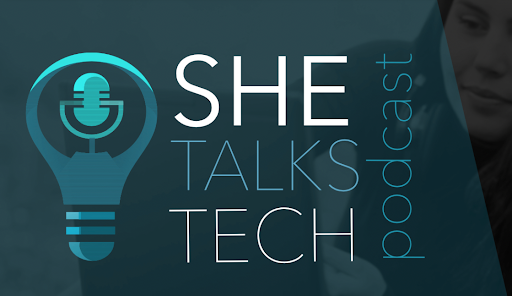 Image source: WeAreTechWomen
Git Cute Podcast
Git Cute is much more than just a podcast about career advice and software engineering. Founder, Jocelyn Harper, brings a unique perspective to the tech space, one molded from many years in the industry. And no need to worry if you're new to tech; this podcast brings you sound advice without the heaviness of tech jargon. Prepare for a fun and engaging conversation with lots of laughter.
Image Source: Git Cute Podcast
Women Who Code Podcast
Women Who Code is a global women-led community that provides women with the tools and knowledge needed to excel in their tech careers. They are all about narrowing the diversity gap and are dedicated to seeing representation of women in tech at all levels. With over 320 000 members in 147 countries, you will gain expert insight from tech leaders around the world sharing their journeys in the industry, trending innovations, the future of work, and the way forward to improve diversity, equality, and inclusion.
Image Source: Women Who Code
Deeper than tech
A podcast with the beginner in mind. Tech is an ever-changing landscape, and starting out can be challenging. Host, Samantha, brings a calm and relatable voice to the conversation and speaks about how to best navigate the tech space starting right at the beginning. From how to set up your portfolio with a recruiter in mind to excelling once you land the job. Navigating your tech career just became a lot easier.
Image Source: Deeper than tech
That rounds up our five must-follow women in tech podcasts. Do you think we've missed one deserving of a mention? Let us know, we're all ears.
Share this
11 August 2022
By: Michael
Technology